If you want to live a life you love you must let go. You must let go of thoughts, things, and people that don't offer meaning, necessity, or purpose for you in and for your life.
I have said these words to everyone I coach at least once. And I tell them because I know that too much in our physical and mental space clutters. Too much of anything causes overwhelm, a feeling of unfulfillment, and chaos.
Letting go is the answer.
In fact, letting go of anything that doesn't have meaning, purpose, or necessity is what opens you up mentally and physically. That opening up creates possibility. It allows you to dream more wildly, love more deeply, and "become" more intentionally.
This I know to be true because I have seen it countless times. And I have experienced it for myself.
Just before I turned 40 I was knee-deep in fertility treatments that left me feeling bloated and annoyed and a shell of myself. I had a ton of limiting beliefs swirling around my head about getting pregnant. According to doctors I was practically geriatric. Those limiting beliefs, the outside voices of doctors, media, and even well-intended friends and family telling me what to do and how to feel did a number on me. Those beliefs made me feel not good enough, and unworthy. And certainly, as though I had little control over my life.
And somewhere around the time my husband and I decided to stop fertility treatments and adopt a child through our home state something shifted. It was then that, unbeknownst to me, minimalism started to rear its beautiful head. And just in time because becoming a mother at the age of 44 to a beautiful 4-year-old girl tossed some triggers at me that I wasn't expecting.
Motherhood does that.
And I realized in order for me to be the kind person I wanted to be, I had to let go, not just of my limiting past. But I had to let go of what was not allowing me to embrace the present. All the unhealthy stuff and cluttered thoughts about me, my abilities, and who I was – it all had to go. I had to uncover, discover, move forward, and be present.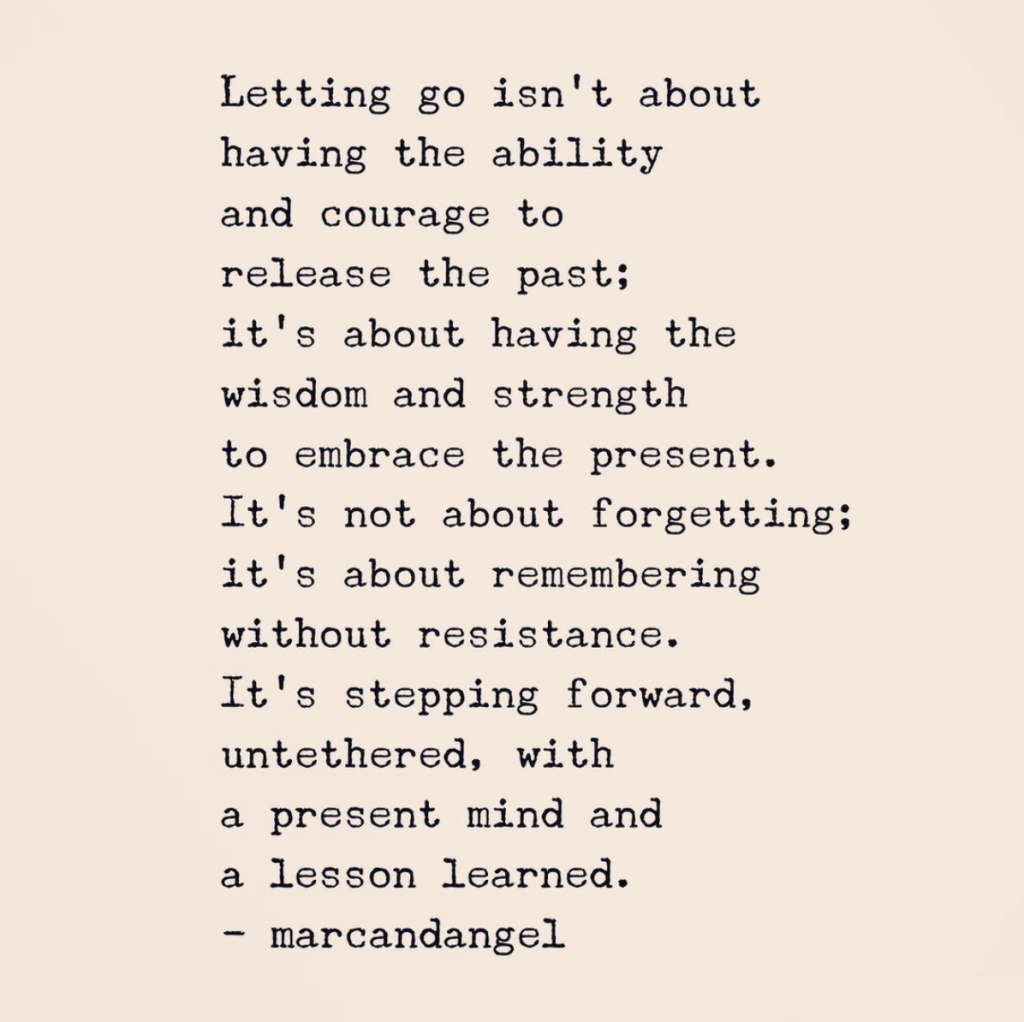 Presence is key.
When you are present and aware of what matters to you now, and what will help you step forward, you exercise another kind of letting go. The kind that allows you to live your life on your own terms. Be your own person.
For me, when I realized that I have the power and the choice to create my life any way I'd like, everything changed.
I could see that if I wanted to become someone that would be impactful, happy, and with a good sense of self, I had the power to do so. I had the power to decide not only how I wanted to feel but to add in more of what helped me feel that way. And let go of what didn't. Learning to let go of guilt, shame, fear and all the physical things that represent them allowed me to live in the present.
I have the power to change my life, to trust what is best for me, to let go. And so do you.
You have the power to rewrite your story and all of those limiting beliefs. To see what holds you back, and let go. You have the power to build your life on a solid foundation. A foundation layered with self-awareness, love, and a consistent desire to improve.
You have the power to be present, step forward, and live intentionally.
And one way to do so is to let go of everything that makes living your life – now – more difficult.
When I decided to embrace my power I moved forward. With a present mind and a plethora of lessons learned.
Those lessons I hold dear. Many were painful. Most were frustrating. All were necessary.
They had meaning; they helped me find purpose. And those lessons were revealed when I let go. When I let go and saw the present as the most integral part of creating a life I loved.
Letting go is a necessary part of living – of being present and aware. Things come and go. Thoughts do as well. People make their mark. Life is an ebb and flow.
Your job is to pay attention to what comes in. Weigh it against the present and who you strive to be. So that you can be aware and deliberate in your choices.
And create your life on solid ground.
_____________________
Are you looking to create a life you love? Do you need support and guidance on determining how to achieve it? If so, my Minimalist Lifestyle Coaching program is for you. Want to try it on for size? Schedule a one-time, introductory session here.  Questions? Book your free discovery call.